Fleet "Clones of the Barbary Coast"
extended display
Fleet "Clones of the Barbary Coast"
60 Points
created by a7xfanben
LV96
Can I build this fleet?
This is my first entry for nematode66's Attack of the Clones Fleet Challenge.

My collection is still lacking in terms of the Barbary Corsairs, but I've always been impressed with them. Pretty much all of their ships are very playable, and their two masters are especially viable for fleets looking for an extra ship. I would've used all of them if not for the point limit!

The Queen of Sheba is the unofficial flagship, and she's going to be fighting and running gold. She's sailing at S+S+S speed with a captain and two spots available for gold. The Morocco is my best gold runner, with S+S+S speed and room for three treasures. Her ability should enhance even further the gold gathering potential of the fleet. The Gallows is the only true gunship, and she'll probably escort treasure runners and distract enemy gunships. The Griffin is a nice cheap gold runner, with a base move of S+L. She and the Dervish will explore the islands closer to home. The Dervish is dirt cheap, but still moving at L+S with room for two or three coins. The Agha's Whip is another gold runner moving S+S+S, and she can take two treasures.

Diver and Raft were added to boost the point total to 60, while giving me gold insurance. The treasure-friendly UT's should help out my gold adventures, and I might be able to find them early on with the Morocco's ability.

This fleet's strengths lie in its speed and numbers advantage; an easy-to-use Barbary swarm fleet. Thanks to nematode66 for running the Challenge, please comment and vote!

I thought the following picture from my current game was appropriate - the entire Cursed Corsair fleet. The Queen of Sheba is off to the left, with the Morocco and Griffin in the right foreground. The battle report for the game can be found here. In the thread, you can see the same picture, but it's much bigger and easier to see.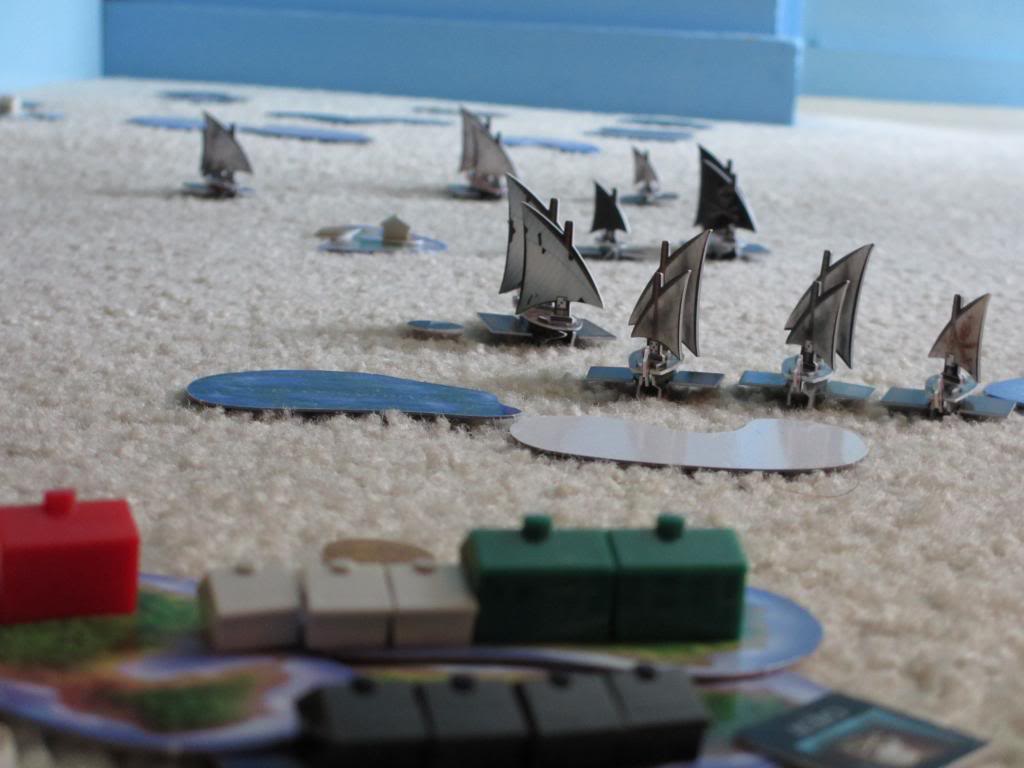 Section: Ship #1 (4 miniatures)
Miniature
Set
Number
Type
Rarity
1
x
Captain
PofBC
116
Crew
C
1
x
Explorer
PofBC
117
Crew
C
1
x
Helmsman
PofBC
118
Crew
C
1
x
Queen of Sheba
PofBC
027
Ship
C
Section: Ship #2 (3 miniatures)
Miniature
Set
Number
Type
Rarity
1
x
Explorer
PofBC
117
Crew
C
1
x
Helmsman
PofBC
118
Crew
C
1
x
Morocco
PofBC
030
Ship
C
Section: Ship #3 (3 miniatures)
Miniature
Set
Number
Type
Rarity
1
x
Captain
PofBC
116
Crew
C
1
x
Gallows
PofBC
023
Ship
C
1
x
Helmsman
PofBC
118
Crew
C
Section: Ship #4 (2 miniatures)
Miniature
Set
Number
Type
Rarity
1
x
Explorer
PofBC
117
Crew
C
1
x
Griffin
PofBC
031
Ship
C
Section: Ship #5 (3 miniatures)
Miniature
Set
Number
Type
Rarity
1
x
Agha's Whip
PofBC
025
Ship
C
1
x
Explorer
PofBC
117
Crew
C
1
x
Helmsman
PofBC
118
Crew
C
Section: Ship #6 (2 miniatures)
Miniature
Set
Number
Type
Rarity
1
x
Dervish
PofBC
029
Ship
C
1
x
Helmsman
PofBC
118
Crew
C
Section: Events (2 miniatures)
Miniature
Set
Number
Type
Rarity
1
x
Divers
PofR
020B
Event
C
1
x
Raft
PofR
037B
Event
C
Section: Unique Treasures (4 miniatures)
Miniature
Set
Number
Type
Rarity
1
x
Knights of Malta Banner
PofBC
106
Unique Treasure
R
1
x
Relics
PofBC
102
Unique Treasure
R
1
x
Spices
PofBC
100
Unique Treasure
R
1
x
Wine
PofBC
104
Unique Treasure
R
Fleet Statistics
Distribution by Base Move
-
17
74 %
L
1
4 %
S+L
2
9 %
S+S
3
13 %

---

Distribution by Cargo Space
-
16
70 %
-
1
4 %
2
1
4 %
4
3
13 %
5
2
9 %

---

Distribution by Faction Affiliation
Barbary Corsairs
17
74 %
Treasure
6
26 %

---

Distribution by Number of Masts
-
17
74 %
2
6
26 %

---

Distribution by Point Value
-
4
17 %
1
6
26 %
2
5
22 %
3
2
9 %
4
1
4 %
6
3
13 %
8
2
9 %

---

Distribution by Rarity
C
19
83 %
R
4
17 %

---

Distribution by Type
Crew
11
48 %
Event
2
9 %
Ship
6
26 %
Unique Treasure
4
17 %

---
Rating
Current score for this Fleet, based on 5 votes:
5.00
Discussion about this Fleet

Add your comments
Author
Message
nematode66




Subject: Posted: June 20, 2013 06:54 pm

---

Nice! I was hoping that someone would enter this sort of mosquito fleet. The corsairs, especially their two-masters, are particularly cheap and useful. Also, the Griffin was in my first pack, so it's always fun to see it used (no bias in judging ).

Back to top
a7xfanben


LV97





Member since
June 27, 2011

Subject: Posted: July 6, 2017 12:16 pm

---

Back to top
crsluggo


LV6





Member since
May 14, 2017

Subject: Posted: July 6, 2017 02:02 pm

---

I appreciate that you built a decent Barbary fleet without using Janissaries' Blood . According to some people I've talked to, It is the only decent Corsair ship to be released... From the looks of it, your fleet looks well balanced and has plenty of redundancy built... Hopefully preventing your game getting screwed by the loss of a ship....

Back to top
Modified on July 8, 2017 06:53 pm
a7xfanben


LV97





Member since
June 27, 2011

Subject: Posted: July 6, 2017 02:26 pm

---




quote from crsluggo:

I appreciate that you built a decent Barbary fleet without using Janissaries' Blood . According to some people I've talked to, It is the only decent Corsair ship to be released... From the looks of it, your fleet looks well balanced and has plenty of redundancy built... Hopefully preventing you game getting screwed by the loss of a ship....




And those people are probably too focused on combat. The JB is their best gunship, but the Corsairs are primarily a gold running faction. In fact, it couldn't be much further from the truth, as the Corsair ships released make them the game's best minor faction and even better than the Cursed in most cases.

Ranking: Barbary Corsair Gold Runners

Back to top
Add your comments